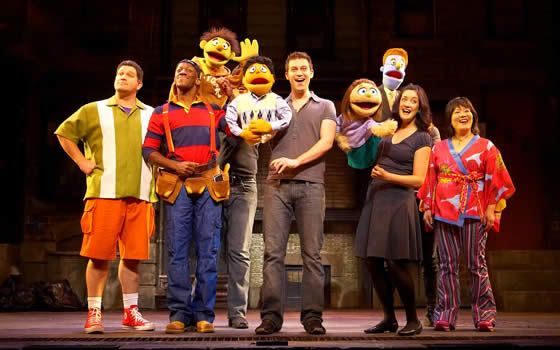 The Durham Bull Pen household has enjoyed several of the
Broadway Series South
shows in Raleigh lately. The touring companies do a stellar job (and we have seen several on Broadway in New York so we have at least some comparison ability). We agreed that the best we've seen so far from the Broadway Series South was Wednesday evening's "
Avenue Q
." Although "
SpamaLot
" was quite good too.
We previously noticed that the crowd is sort of mix of ages, but heavy on the Raleigh Junior League-y types with their sport-coated husbands. Season-pass goers, probably. I wondered as we filtered into the show how "Avenue Q" might be met by them. Having read about the show, and knew it was a hip, witty, but raunchy puppet show complete with bawdy songs and puppet sex, I was anxious to see the reaction. And looking forward to the show as well.
The show didn't disappoint. It was a delight, from the tremendously talented actors working the puppets to the brilliant songs they sang--some with lyrics edgy enough to make you squirm with recognition.
As the N&O's review noted
here
, there was a definite mix of reaction from the crowd. In fact, the well-coiffed couple seated in front of us left in a huff after the second song. That was fine by me, as it opened up our view to the stage quite nicely. Perplexing they didn't have the sense to look up a bit about the show,
even from wiki
where it's pretty clear the show is cutting edge. Be that as it may.
Not sure what we want to see next, but I did notice that
Chicago
is coming soon, and we recently caught the film
Roxie Hart
on television, so our interest is piqued.
To be perfectly honest, it has to be something pretty good to get us to drive to Raleigh, and these shows have been well worth it. It's only about 25 minutes from my door in central Durham, near downtown, to the parking deck at
Memorial Hall/Progress Energy Center for the Perfoming Arts
--how's that for a mouthful of a name? I do admit I enjoy the large fetching statue of Sir Walter Raleigh that greets us each time: