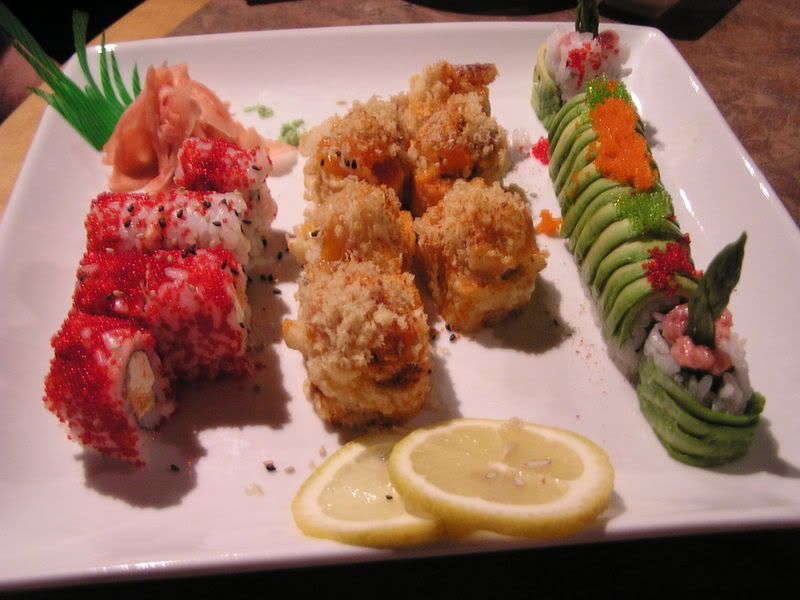 Friends and I met at Mt. Fuji at Brightleaf Square for dinner recently. Mainly two of us were having serious sushi cravings, and we all met at Mt. Fuji so we two could feed our sushi habit. As you can see, the plate of sushi was beautiful and I snapped a quick picture before we completely scarfed it down. Tasty and we agreed we could've devoured much more. Next time we will. We ordered the "Christmas Roll" (on the right), the "Spicy Ocean" (middle)--both of those were specials, and the Kani roll (left, with the red fish roe).
The others reported as follows on their meals: the Green Curry with chicken was 'okay,' the Pad See Ew with Tofu got an enthusiastic 'excellent,' and the Spicy Basil (Thai) Shrimp was reportedly 'good.'
That evening just after we got seated, about 50 Duke undergrad students in couples came streaming in wearing formal duds and were seated nearby. It quickly went from being fairly low-key and quiet to practically a party. We put in our orders quickly and got served while they were still marking their paper slips for their sushi choices.
All in all a good night. The sushi was quite tasty and we'll definitely be back for more.
What's your favorite sushi place around here?