At the Durham Bull Pen household we've decided to become more knowledge about cooking with all kinds of dried beans. Instead of popping open a can of beans--which are full of sodium--now we buy and use dried beans (which are usually zero sodium). We especially like the heirloom beans.
You can learn a lot about heirloom dried beans, and even order some for cooking, at
ranchogordo.com
. Those folks have a neat site there.
Last summer at our favorite open-air market on the way to the mountains, we loved to scoop out bags of all kinds of varieties from the big barrels, like this: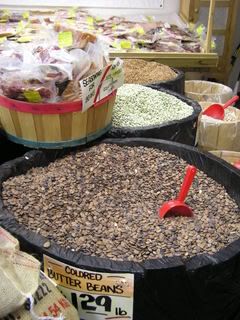 I mean, who could resist beauties like these "yellow eye beans" that we found in one of the barrels--and also found on the ranchogordo site linked above:
Check out ones like "Christmas lima beans" and "goats eye beans."
The somewhat imprecise recipe for the
Cannellini Vegetable Soup
: in a few tablespoons of olive oil saute' up some diced onion, chopped garlic, diced carrots and celery in the bottom of your soup pot. Once the veggies are slightly soft, add in the cannellini beans (which have soaked overnight in water), some diced tomato, and a 32 oz. container of veggie broth or chicken broth. I added some fresh rosemary from my yard, and some course ground pepper, and a couple of pinches of hot pepper flakes. Let it all simmer for an hour or so. The amount of veggies and spices is up to you really. It's hard to screw this up. Re-use the water the beans soaked in by watering your plants or flushing your toilet (this applies particularly to Durham residents.)