Once in a long while I'll get so engrossed in a book that I stay up all night reading it. That happened recently with this book so I thought I'd do a quick blog entry about it. Here's the book,
The Legal Limit
: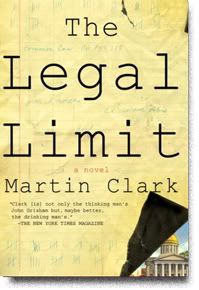 The book is based on an actual murder that took place in Stuart, Virginia about 20 years ago, and the events that took place afterwards. The author, Martin Clark (Davidson graduate), is a judge in Virginia, and he wrote a fascinating, fictionalized account of the murder. The story has delicious and absorbing twists and turns in the plot, as well as truly interesting ethical questions.

It may've had an extra appeal to me because I've been in and around Stuart, Virginia--which is near Mt. Airy, NC and Fancy Gap, VA. Everything and everyone seemed so familiar in the book, it seemed like I was reading about something that happened to a friend. The characters and dialog flow like the real thing, like they should.

I long ago got bored with John Grisham's books, no offense to Mr. Grisham. This book stands head and shoulders above any legal 'thriller' books I've read recently. In fact, I'm not sure I've read any in that genre recently. This one is worth picking up and reading, in my opinion, if for nothing but sheer joy of the ride it gives, twisting and turning this way and that, with provocative ethical questions thrown in to mull over during the ride.
.