"Well, art is art, isn't it? Still, on the other hand, water is water! And east
is east and west is west and if you take cranberries and stew them like
applesauce they taste much more like prunes than rhubarb does.
Now, uh... now you tell me what you know." ~ Groucho Marx
New York City has a cool new public temporary art installation, utilizing so-called "
negative space
":
A first hand description is
here
:
"This morning, as dawn broke, it looked as though the Brooklyn Bridge had sprung a gigantic leak: There's a 100-foot tower of scaffolding just under the roadway on the Brooklyn shore, with water cascading from the top — at a rate of around 9,000 gallons of water a minute.

There are three other waterfalls like the one under the bridge: one on the Manhattan shore on the Lower East Side, another on the Brooklyn shore near Brooklyn Heights and one on Governors Island in the middle of New York Bay.

The falls are between 80 feet and 120 feet high . . ."

Sounds enthralling, and I'd sure like to be able to see those before they go away, but that's probably not in the cards.


I have to say that my favorite outdoor art installation using water has to be the Crown Fountain permanent exhibit in Chicago by
Jaume Plensa
that I've had the good fortune to visit several times, even to shuck off my shoes and happily walk around in the water. Nothing beats watching the kids squeal and play, and to watch the faces on the towers. I took the following 2 pictures in 2006: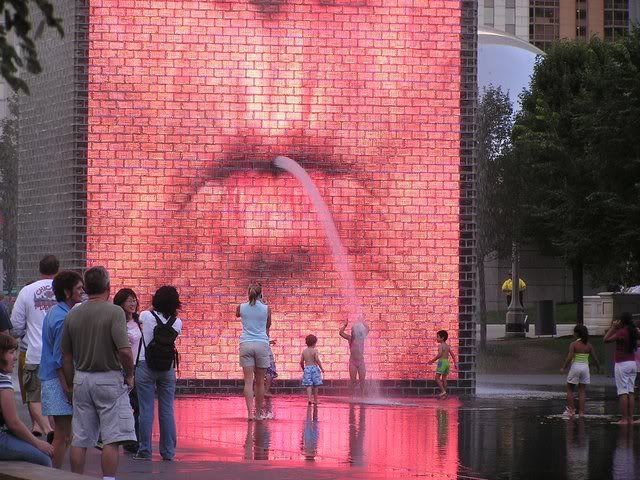 And its best at night, in my opinion:
Several years ago we happened upon an intriguing art installation by Japanese artist
Murakami at Rockefeller Center
. Several of these kinds of sculptures set up for people to ponder, touch, and enjoy:
I'm always drawn to water wherever I am, so I really love it anytime art and water collide. My dream for Durham would be to have some public art installations, especially interactive ones, around downtown, in addition to the "
river
" at the American Tobacco complex, which is beautiful. This pic I snapped a few weeks ago:
Heck I even like the waterspout installation at Northgate Mall, near the cinema. Note to self, must get picture of that.